ANALYSIS OF FALSE DOCUMENTS DETECTED AT THE BORDER CONTROL OF EUROPEAN UNION MEMBER STATES AND THE PROSPECTIVE METHODS FOR THE DETECTION OF COUNTERFEITS
Keywords:
external borders of the EU member states, false documents, FRONTEX, innovative technologies, prospective detection techniques
Abstract
The subject of the paper "Analysis of False Documents Detected at the Border Control of European Union Member States and the Prospective Methods for the Detection of Counterfeits" is topical, as the verification of the authenticity of travel documents is the cornerstone of border controls; also, the interrelations between the techniques of producing false documents discovered in the EU Member States and the practical application of technologically new methods of document reproduction has not been extensively reviewed and evaluated in EU scientific literature and current information materials. Identity fraud is expensive: from bank accounts opened with false names to money laundering and all kinds of smuggling and terrorism. The endless variety of criminal activities gives false documents a high value. In addition, for 3 billion travelers worldwide, identity verification needs to be fast, unproblematic and effective. Due to the pressure on borders (time constraints and an increasing numbers of travelers) and the increasing complexity of modern document security, border control capabilities (officials and/or automated systems) are compelled to decide quickly and simply whether documents submitted are authentic or false. The operational execution of document verification capacity is crucial for the efficiency and security of border checks. The aim of the research is to study the quality of false documents discovered at European Union Member States' border inspections and to identify prospective methods of their detection.
Downloads
Download data is not yet available.
References
Eiropas Komisijas paziņojums Eiropas parlamentam un padomei (2016). Rīcības plāns stingrākai Eiropas darbībai pret ceļošanas dokumentu viltošanu. Publications Office of the EU. Retrieved October 5, 2020, from https://eurlex.europa.eu/LexUriServ/LexUriServ.do?uri=COM:2016:0790:FIN:LV:PDF
Eiropas Parlamenta un Padomes Regula par Eiropas Robežu un krasta apsardzi un ar ko atceļ Padomes Vienoto rīcību Nr. 98/700/JHA, Eiropas Parlamenta un Padomes Regulu (ES) Nr. 1052/2013 un Eiropas Parlamenta un Padomes Regulu (ES) 2016/1624 (2018). Eiropas Komisijas ieguldījums vadītāju sanāksmē Zalcburgā, 2018.gada 19.–20.septembrī. Retrieved October 5, 2020, from https://ec.europa.eu/transparency/regdoc/rep/1/2018/LV/COM-2018-631-F1-LV-MAIN-PART-1.PDF
Hor, T. (2017) Developing harmonized automated border control (ABC) training capabilities. ICAO TRIP Magazine, 2 (12). Retrieved October 5, 2020, from
https://www.icao.int/publications/journalsreports/2017/TRIP_Vol12_No2.pdf
Ministru kabineta instrukcija Nr.12 (2009). Viltoto un autentisko dokumentu (False and Authentic Documents) informācijas sistēmas veidošanas, aktualizēšanas un izmantošanas kārtība. Latvijas Republikas tiesību akti. Retrieved October 5, 2020, from https://likumi.lv/doc.php?id=195371.
Risk Analysis for 2019 (2019). Warsaw: Frontex. Retrieved October 5, 2020, from https://frontex.europa.eu/assets/Publications/Risk_Analysis/Risk_Analysis/Risk_Analysis_for_2019.pdf
SOUCHET, J. (2019). New Trends about Document Fraud at European level. Proceedings of ICBWG Seminar and Meeting Windhoek. FRONTEX Centre of Excellence for Combating Document Fraud. Short URL: https://rb.gy/dfogoo
STICERE, I. (2019). Par dalību FRONTEX aģentūras organizētajā starptautiskajā konferencē par robežu biometriju: morfēšana un tā uzbrukumu noteikšanas metodes. Latvijas Republikas valsts robežsardzes dienesta ziņojums. Polijā, Varšavā.
Valsts robežsardzes darbības stratēģija. 2017. – 2019.gadam (2017). Retrieved October 5, 2020, from https://www.rs.gov.lv/faili/doc2013/vrs_strategija_2017.-2019.g..pdf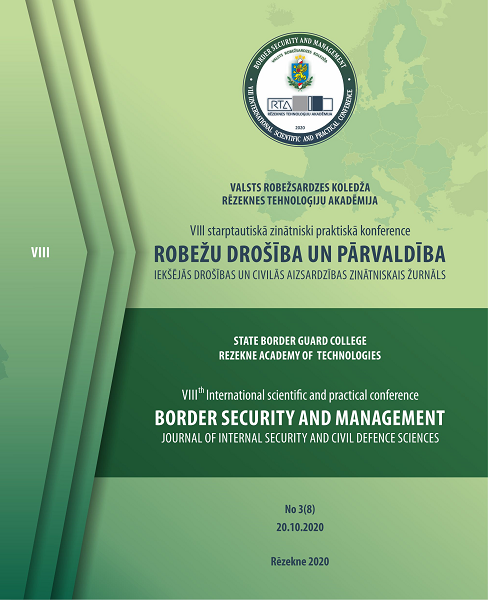 Downloads