Geographic Distribution Of Protected Sedge Species Carex Pilosa Scop. In Latvia With Reference To Forest Ecosystems
Keywords:
Carex pilosa, chorology, ecological factors, forest ecosystems
Abstract
The results of field studies, laboratory research and desk-based GIS geospatial analysis of ecological factors which determine geographic distribution of hairy sedge (Carex Pilosa Scop.) in Latvia with reference to forest ecosystems are presented in this article. Hitherto such a complex studying of chorology and ecology of this protected forest herb has not been performed before in Latvia, nor has it been attempted in the other Baltic states. The obtained results demonstrate that this protected plant species ecologically is quite plastic regarding its growing conditions and can be found in different forest ecosystems, however the most vital and largest cenopopulations of Carex pilosa are associated with the old deciduous forests, particularly those growing within erosion landforms on the slopes of the southern or south-eastern aspect. This research is important both from the scientific and practical view point, allowing to work out recommendations for the protection and conservation of this rare species in Latvia.
Downloads
Download data is not yet available.
References
Rejzková, E., Fér, T., Vojta, J., Marhold, K. Phylogeography of the forest herb Carex pilosa (Cyperaceae).Botanical Journal of the Linnean Society, 158 (1), 2008, pp.115–130.
Ellenberg, H. Vegetation ecology of Central Europe. 4th edit. Cambridge University Press, Cambridge, UK,2009, 756 pp.
Baroniņa, V. Matainais grīslis. Grām.: Latvijas Sarkanā grāmata. Andrušaitis G. (Ed), 3. sēj: Vaskulārie augi. Rīga, LU Bioloģijas institūts, 2003, 126.lpp.
Latvijas Republikas Ministru kabineta noteikumi Nr.396 "Noteikumi par īpaši aizsargājamo sugu un ierobežoti izmantojamo īpaši aizsargājamo sugu sarakstu", 2000. Latvijas Vēstnesis, Nr. 413/417(2324/2328),, 17.11.2000. ar grozījumiem: 27.07.2004. MK noteikumi Nr.627, Latvijas Vēstnesis, Nr. 120 (3068), 30.07.2004.) [spēkā ar 31.07.2004.].
Ellenberg, H. Zeigerwerte der Gefässpflanzen Mitteleuropas. Scripta Geobotanica, IX (Göttingen). 1974,97 pp.
Villerts, A. Dažu 1939. gadā ievākto retāko augu atradnes. Daba un Zinātne. Nr.3. 1940, 100.-101.lpp.
European Council Directive 92/43/EEC of 21 May 1992 on the conservation of natural habitats and of wild fauna and flora. Official Journal of the European Community, L 206 , 22/07/1992, pp. 0007 – 0050.
Iliško, E., Soms, J. Matainā grīšļa Carex pilosa Scop. izplatība dienvidaustrumu Latvijā. Krāj.: Ģeogrāfija.Ģeoloģija. Vides zinātne. Latvijas Universitātes 68. zinātniskās konferences referātu tēžu krājums. Rīga, LU Akad. apgāds, 2010, 87.-89.lpp.
Gudžinskas, Z., Krampis, I., Laiviņš M. Spread of Carex pilosa Scop. In Latvia and Lithuania. Latvijas Veģetācija, 21, 2010, pp.127-132.
Young, A., Brunsden, D., Thornes, J.B. Slope profile survey. British Geomorphological Research Group Bulletin No. 11. Geo Abstracts, Norwich, 1974, 52 p.
Goudie, A., Anderson, M., Burt, T., Lewin, J., Richards, K., Whalley, B., Worsley, P. Geomorphological techniques. 2nd ed. Routledge, London, 1998, 570 pp.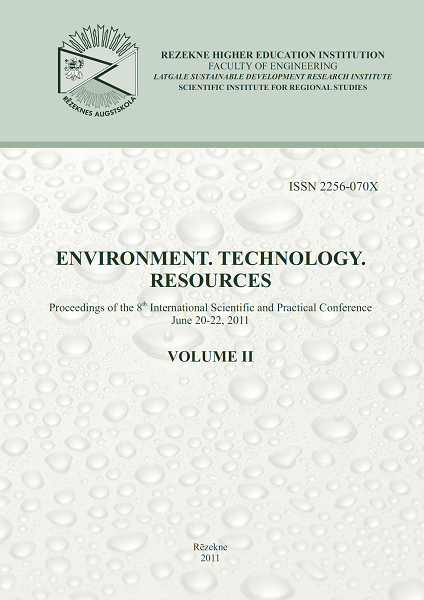 Downloads
Section
VIII Environmental education, biology, climate
How to Cite
[1]
E. Iliško and J. Soms, "Geographic Distribution Of Protected Sedge Species Carex Pilosa Scop. In Latvia With Reference To Forest Ecosystems",
ETR
, vol. 2, pp. 325–331, Aug. 2015,
doi: 10.17770/etr2011vol2.975.