THE FINANCIAL PROBLEMS OF COMMERCIAL ACTIVITIES OF LATGALE PLANNING REGION DURING THE PERIOD OF THE YEARS 2006 – 2011
Keywords:
Commercial profitability, economic profitability, financial profitability, profitability of the basic activity, financial lever impact, price of borrowed capital, liquidity, profitability factors
Abstract
There has been carried out the analysis of the financial situation of the commercial activities of Latgale planning region in comparison with the financial situation in Latvia in general during the period of the years 2006 – 2011. The analysis was based on the methodology of the analysis of finance worked out by the author, which in comparison with the traditional methods has been supplemented with the indexes of financial lever impact, and which included the analysis of the factors having impact on profitability. There have been calculated the numerical expression of factors, which had impact on the commercial, economic and financial profitability of the commercial activities of Latgale. As a result of the analysis the chief problems for the improvement of the commercial situation in Latgale have been identified.
Downloads
Download data is not yet available.
References
GARANČA B. Komercsabiedrības finanšu rādītāju un to ietekmējošo faktoru analīze un tās secība. Latgales Tautsaimniecības pētījumi. Sociālo zinātņu žurnāls. Galv.red. B.Garanča. Rēzekne: RA Izdevniecība, 2013, Nr.1(5)., 51.-62.lpp.
Reģionu attīstība Latvijā 2010,[tiešsaiste][atsauce 2013.g. 21.marts] Pieejas veids: http:/www.vraa.gov.lv/uploade/Re
Latvijas Centrālās statistikas pārvaldes nepublicētie materiāli:
- Komersantu (komercsabiedrību) bilances aktīva un pasīva rādītāji, 2006-2009 (perioda beigās), peļņas vai zaudējumu aprēķini 2006-2009. Piepr_1806 (pēc darb.sk._Latgale_Latvija_2006-2009
- Komersantu (komercsabiedrību) bilances aktīva un pasīva rādītāji 2010.g. beigās, peļņas vai zaudējumu aprēķini 2010.g. Pieprasījums 1648_pēc darb.sk._ Latgale_Latvija_2010
- Komersantu (komercsabiedrību) bilances aktīvs, pasīvs, peļņas vai zaudējumu aprēķini 2011.g. Pieprasījums_Latvija_Latgale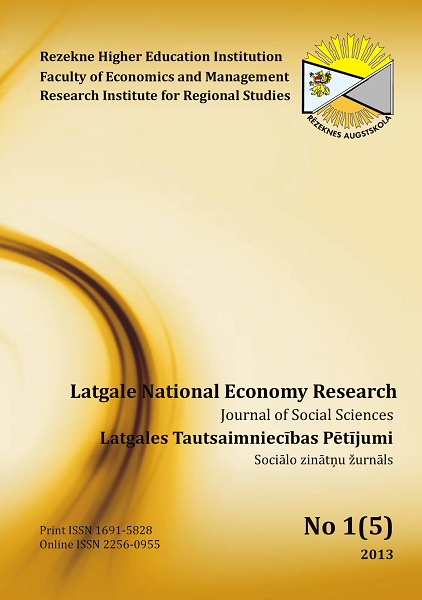 Downloads