RESTRUCTURE OF THE ENTERPRISE TO MICRO– ENTERPRISE TO USE TAX ADVANTAGES IN ORDER TO INCREASE PROFITABILITY, CASE STUDY
Keywords:
competitiveness, micro–enterprise, tax advantages
Abstract
At 01/09/2010, Micro–enterprise Tax Law came into force in Latvia. The Law permits paying of single micro–enterprise tax at the rate of 9% from turnover. Innovations of the article – there have been insufficient studies on impact of this law. The aim of the paper is to discover whether legislation amendments permit the enterprise to reduce costs via network of branches by restructuring thereof into micro– enterprises. The study is based on a case study. Used methodology: study of financial documents, PEST analysis, interview, questionnaire. During the study, cost/revenue analysis has been conducted, two cash flows have been created. Results of the study are summed up in conclusions and demonstrate that restructuring of branches into micro– enterprises permits the companies to increase profitability and to decrease the costs (question of the study has been answered affirmatively), competitiveness of company is growing, and the restructuring must emphasize surveyor's motivation as well.
Downloads
Download data is not yet available.
References
BRUCE R. Jewell, An Integrated Approach to Business Studies 4th Edition,
Pearson Education Limited (Longman), 2000, 588 p.
CLARK, P., GOLDEN, P. etc, Business and Management Course Companion,
Oxford University press, 2009, 416 p.
GILLESPIE, A., AS & A Level Business Through Diagrams, Oxford University
Press, 2001, 160 p.
HALL, D., JONES, R., RAFFO, C. Business Studies, Second Edition, Causeway
Press Limited, 2002, 770 p.
Latvijas patērētāji – 4. pesimistiskākie pasaulē; lielākie optimisti – indieši,
indonēzieši un norvēģi (online) Retrieved:
http://www.diena.lv/lat/business/expert/businessresearch/latvijas–
pateretaji–4–pesimistiskakie–pasaule–lielakie–optimisti–indiesi–indoneziesi–
un–norvegi Access: 10.11.11.
On State Revenue Service (online) Retrieved:
http://www.vid.gov.lv/default.aspx?tabid=8&id=2982&hl=1. Access: 12.12.11.
Pelēkās ekonomikas ziedu laiki (online) Retrieved: http://www.db.lv/blogi–
viedokli/blogi/inese–olafsone/pelekas–ekonomikas–ziedu–laiki–224495.
Access: 12.12.11.
Pērn vidējā alga sarukusi par 3–5 procentiem (online). Retrieved:
http://www.db.lv/finanses/makroekonomika/pern–videja–alga–sarukusi–
par–3–5–proc–236063. Access: 12.12.11.
Interview with the enterprise X CFO, 2011.
The enterprise X cash flow, 2010.
The enterprise X cost/revenue analysis, 2010.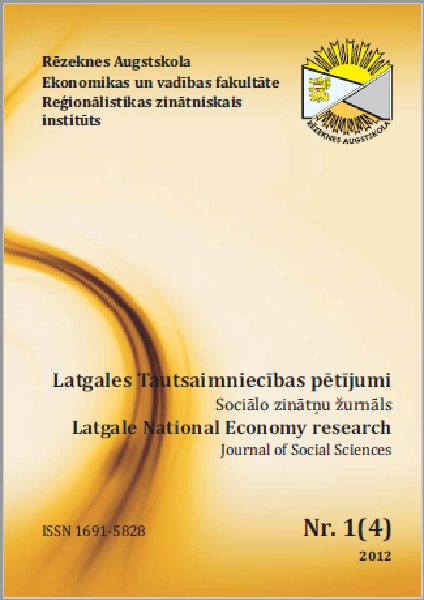 Downloads