THE ATTITUDES AND OPINIONS OF THE TEACHING STAFF CONCERNING INCLUSION IN THE CZECH REPUBLIC: READINESS FOR CHILDREN WITH VARIOUS TYPES OF IMPAIRMENT
Keywords:
teachers, inclusive education, attitudes, quantitative research
Abstract
The paper focuses on a part of an extensive research study of the attitudes of teachers in kindergartens, elementary and secondary schools in the Czech Republic to the amendment to the Education Act effective from 1 September 2016, which introduced a new model of assessment of special educational needs.
According to the amendment, children with SEN are no longer assessed by the type of disability (health, social), but rather by the impact of the disability on their educational needs. These are newly classified into five degrees of 'support measures'.
The amendment and related regulations also significantly limited the activities of schools specially designed for children with mild intellectual disability. By means of a measure issued by the Minister of Education, the curriculum specially formulated for these schools, which forms an annex to the Framework educational programme, was cancelled.
These measures caused an unprecedented social discussion, which was often marked by strong anti-inclusion attitudes of the general public. Therefore, in May 2017 the research team of the Faculty of Education, Palacký University in Olomouc carried out an extensive measurement (2xxx respondents), which brought a real picture of teachers' attitudes to the ongoing changes.
The paper presents the attitudes of two groups of respondents: teachers in mainstream schools and teachers in special schools. The results showed statistically significant differences in the attitudes and assessments between these two groups of concerning the issue of inclusive or joint education.
References
Annex No. 2 to the FEP EE on the education of children with mild intellectual disability (2015). Retrieved from http://www.nuv.cz/file/138
Decree of the Ministry of Education, Youth and Sports which amends the Framework educational programme for elementary education (Ref. No. MŠMT-28603/2016 as of 22 February 2016. (2016). Retrieved from http://www.msmt.cz/file/37053 (2016).
Education Act (2015). Act No. 561/2004 Coll., on pre-school, elementary, secondary, higher vocational and other education as amended by Act No. 82/2015 Coll.
Gary, K. (2004). Inclusive Education. London/Great Britain: Open University Press.
Lechta, V. (2010). Základy inkluzivní pedagogiky. Praha/Czech Republic: Portál.
Schmidt, M., Vrhovnik, K. (2015) Attitudes of teachers towards the inclusion of children with special needs in primary and secondary schools, Vol. 51, No. 2, pp. 16-30.
Zeenat, I. Basheer, K., & Ismat; K. (2016). Attitudes towards Inclusion of Special Needs Children into Primary Level Mainstream Schools in Karach, The European Journal of Social & Behavioural Sciences, Vol. 17, No. 3,. 2177-2196.
Sharmila, V. et al. (2015). Factors Associated with Primary School Teachers' Attitudes Towards the Inclusion of Students with Disabilities, Plos One, San Francisco, Vol. 10, No 8.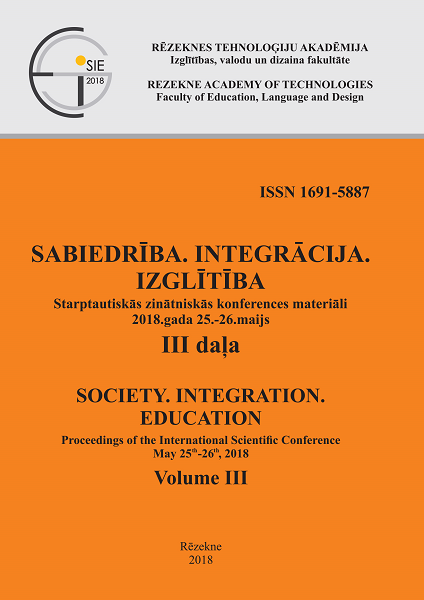 Downloads