MULTILINGUAL EDUCATION – A STEP INTO THE BETTER FUTURE
Keywords:
cross-national, method, multilingualism, policies, translanguaging
Abstract
Contemporary globalizing processes are often associated with plurilingualism, translanguaging and multiliteracies that foster the implementation of multilingual education in the countries facing an increasing diversity: the mass migration of population, the growing number of refugees, settlements of ethnic minorities.
The paper deals with the presentation of the latest state policies directed towards the implementation of multilingual education in Georgia – in the post-Soviet country, which has undergone drastic changes during the last decades. In the Soviet epoch, mastering Georgian or Russian was a prerequisite of a rightful citizenship. After the dissolution of the USSR, mastering Georgian started being obligatory for occupying positions in governmental institutions, organizations, etc. This fact marginalized those representatives of ethnic minorities, who had a poor knowledge of the state language. The government initiated the implementation of multilingual educational policies preventing marginalization of ethnic minorities and facilitating the rearing of plurilingual citizens sharing equal rights and responsibilities. The paper presents certain insights into the multilingual education and makes specific proposals regarding the:
usage of innovative teaching methods, models and approaches (CLIL approach, heteroglossic approach);
creation of an appropriate lesson design;
implementation of intensive training-courses focused on the acquisition of intercultural and cross-national skills, etc.
The methodology of research includes observation, analysis and evaluation of ongoing processes.
References
Baker, C. (2006). Foundation of Bilingual Education and Bilingualism. The USA: Multilingual Matters Ltd.
Banegas, D. L. (2017). Conceptualising Integration in CLIL and Multilingual Education. International Journal of Bilingual Education and Bilingualism. Retrieved from: https://www.researchgate.net/publication/321798551_Conceptualising_integration_in_CLIL_and_multilingual_education
Del Mar Sánchez, M., Pérez, M., & Ramiro, S. S. (2017). Implementing Plurilingualism in Higher Education: Teacher Training Needs and Plan Evaluation. Porta Linguarum Monograph II, 139–156.
Elements of Lesson Design (Hunter). (n.d.). Retrieved from: https://www.csun.edu/science/ref/plans/lesson_design_hunter.html
Garcia, O. (2009). Bilingual Education in the 21st Century: A Global Perspective. Malden, MA: Wiley-Blackwell.
Gorgadze, N. (2016). Rethinking Integration Policy – Dual Ethnic and Cultural Identity, International Journal of Multilingual Education, 8, 6–31.
Grigule, L. (2011). Problems and Challenges of Teaching State Language in the Implementation Process of Multilingual Education. Proceedings of International Scientific Conference Issues of State Language Teaching: Problems and Challenges, 258–266.
Kiramba, L. K. (2016). Heteroglossic Practices in a Multilingual Science Classroom. Faculty Publications: Department of Teaching, Learning and Teacher Education.
Panov, V. (2018). Innovations and Challenges in CLIL Research: Exploring the Development of Subject-Specific Literacies. Theory into Practice, 57(3), 204–211.
Shubitidze, I. (2011). Bilingual Education for Ethnical Minorities in Georgia. Proceedings of International Scientific Conference Issues of State Language Teaching: Problems and Challenges, 65–74.
WaThiongo, N. (1986). Decolonizing the Mind: The Politics of Language in African Literature. London: James Currey, Nairobi: Heinemann Kenya, New Hampshire: Heinemann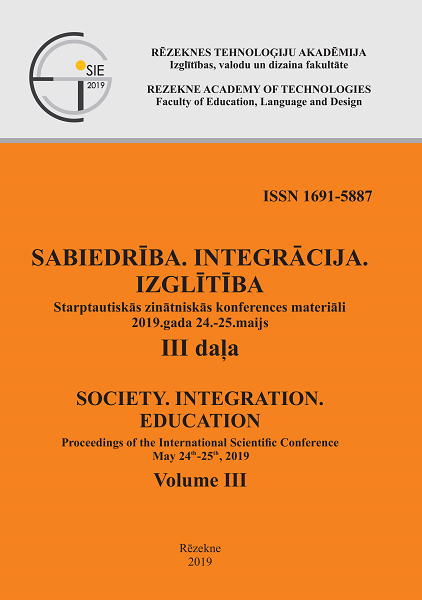 Downloads