THE EDUCATIONAL POLICIES FOR SAFEGUARDING AND TRANSMITTING THE LANGUAGE AS AN INTANGIBLE CULTURAL HERITAGE
Keywords:
cross-national, Georgia, identity, minorities, multiethnicity, policies, project
Abstract
Nowadays, almost all states of the world recognize the importance of the protection of cultural and language rights in sustainability of communities. This attitude is directed by globalizing processes, which strive to transform the world into a single entity via reducing differences. On the background of the globally-determined reformation, preservation of languages, traditions, values and other aspects of culture acquires the greatest urgency. Therefore, states have to pay a special attention to the protection of rights of ethnic, religious and linguistic minorities. The paper deals with the presentation of the progressive state policies as well as the projects/programs facilitating the integration of the ethnic minorities into the Georgian society with the emphasis on the general and higher education. The projects/programs aim at teaching the state language to those representatives of ethnic minorities, who have a poor knowledge or no knowledge of the Georgian language. Determination of the major challenges and outcomes of the projects/programs, discussion of some gaps, introduction of convenient opportunities of their "filling" - these are the major issues of the paper. The methodology of research includes observation, analysis and evaluation of the ongoing processes.
References
Assessment Document on the Implementation of the National Concept for Tolerance and Civic Integration and Action Plan 2009-2014. (2014). Retrieved from: http://www.minorities-network.org/wp-content/uploads/2014/10/doc329.pdf
Bethere, D., Pavitola, L. & Usca, S. (2016). Building Pedagogical Relationships in Diverse Educational Environments. Journal of Teaching and Education, 05 (01), 263-274.
Commission Staff Working Document (n.d.). Assessment of Key Competences in Initial Education and Training: Policy Guidance. Retrieved from: http://csdle.lex.unict.it/Archive/LW/Data%20reports%20and%20studies/Reports%20and%20%20communication%20from%20EU%20Commission/20121128-012143_SWD-371_2012_enpdf.pdf
Decree of the Government of Georgia № 1740 August 17, 2015. (2015). On Approval of the State Strategy for Civic Equality and Integration and Action Plan for 2015-2020. Retrieved from: http://smr.gov.ge/Uploads/esen_55b90432.pdf
DIMTEGU. (n. d.). Retrieved from: http://dimtegu.tsu.ge/
Edwards, V. (2015). Literacy in Bilingual and Multilingual Education. In W. E. Wright, S. Boun & O. Garcia (Eds.), The Handbook of Bilingual and Multilingual Education (75-91). The USA: John Wiley & Sons, Inc.
Gabunia, K. (2017). The Significance of Multilingual Education in the Context of Integration of Minorities into Society. International Journal of Multilingual Education, 10, 43-51.
Gorgadze, N. (2016). Rethinking Integration Policy – Dual Ethnic and Cultural Identity. International Journal of Multilingual Education, 8, 6-31.
Grigule, L. (2009). Shaping the Multilingual Learning Environment: The Case of Multilingual Education Pilot Project in Georgia. Journal of Teacher Education for Sustainability, 11, 50-64.
Tabatadze, Sh. (2015). Factors Influencing the Effectiveness of Bilingual Educational Programs: The Prospects of Pilot Programs in Georgia. Sino-US English Teaching, 12 (2), 93-109.
The UN Convention on the Rights of the Child. (2019). Retrieved from: https://www.crin.org/en/home/rights/convention/articles/article-29-aims-education
Third Report submitted by Georgia Pursuant to Article 25, Paragraph 2 of the Framework Convention for the Protection of National Minorities. (2017). Retrieved from: https://rm.coe.int/third-state-report-georgia/168075fc5e
Universal Declaration of Human Rights. (1948). Retrieved from: http://www.un.org/en/universal-declaration-human-rights/index.html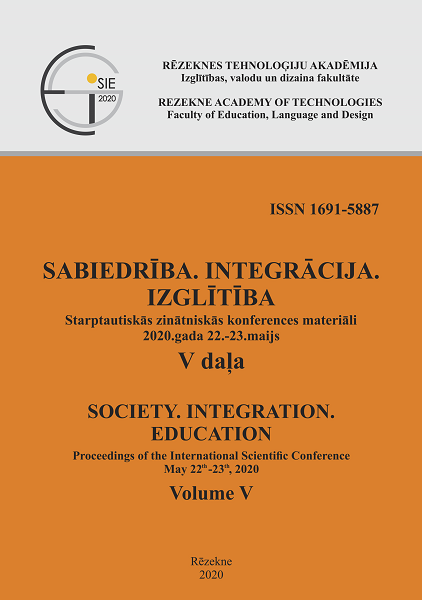 Downloads