TEACHERS' COOPERATION WITH PARENTS OF STUDENTS WITH SPECIAL EDUCATIONAL NEEDS
Keywords:
cooperation, special educational needs, teachers' and parents' cooperation
Abstract
Teachers' cooperation with parents of students with special educational needs (SEN) is particularly important for students with special educational needs. Theoretical analysis has found that there are often problems of cooperation between teachers and parents of children with special educational needs. In order to clarify this, a quantitative study was carried out. The research aim – to reveal the peculiarities of cooperation between teachers and parents of students with special educational needs. The method of a questionnaire survey was chosen for the research, a questionnaire of semi-closed questions was created. The study involved 353 general education teachers. The results of the teacher survey showed that parents are not sufficiently involved in the process of cooperation. The most common forms of cooperation between teachers are individual consultations. The majority of the teachers indicated that they usually cooperate with parents of students with SEN in solving teaching/learning problems of the child, less often they cooperate in developing an individual curriculum. According to the respondents, the main problems are different understanding of responsibilities and demands of teachers and parents on each other.
References
Azad, G.F., Marcus, S.C., Sheridan, S.M., & Mandell, D.S. (2018). Partners in school: An innovative parent-teacher consultation model for children with autism spectrum disorder. Journal of Education and Psychological Consultation, 28(4), 460-486. doi: https://doi.org/10.1080/10474412.2018.1431550
Bednarska, M. (2014). School-house relationships on different stages of children and teenagers (youth) development. Pedagogy, 114(2), 106–115.
Berčnik, S., Devjak, T. (2017). Cooperation between parents and preschool institutions through different concepts of preschool education. Center for Educational Policy Studies Journal, 7(4), 207-226.
Ćwirynkało, K., Bartnikowska, U. (2020). The opinions of foster parents on the personal level of cooperation with teachers in the context of children's special educational needs. A scientific report. Interdisciplinary Contexts of Special Pedagogy, 29, 75–95. Poznań: Adam Mickiewicz University.
Dahl, K.K.B. (2017). Too much parental cooperation? Parent–teacher cooperation and how it influences professional responsibility among Danish schoolteachers. Power and Education, 9(3), 177-191.
Hallahan, D.P., Kauffman, J.M., & Pullen, P.C. (2014). Exceptional learners: An introduction to special education (12th ed.). United States of America: Pearson Education Limited.
Karaca, M. (2016). Communication from sociological perspective. Electronic Journal of Social Sciences, 15(57), 626-648.
Mitchell, D. (2014). What really works in Special and Inclusive Education: using evidence – based strategies. New York: Routledge.
Musiel, E. (2014). Teacher-parent cooperation and pupils' achievements in the perception of adult respondents (based on the example of secondary schools). Pedagogy, 114(2), 96-105.
Ozmen, F., Akuzum, C., Zincirli, M., Selcuk, G. (2016). The communication barriers between teachers and parents in primary schools. Eurasian Journal of Educational Research, 66, 26-46. DOI: http://dx.doi.org/10.14689/ejer.2016.66.2
Rodrigues, F.B., Campos, S., Chaves, C., Martins, C. (2015). Family-school cooperation in the context of inclusion of children with special educational needs. Procedia – Social and Behavioral Sciences, 171, 309-316.
Slušnienė, G., Parišauskienė, D. (2018). Possibilities of information technology usage collaborating with parents of schoolchildren. Role of Higher Education Institutions in Society: Challenges, Tendencies and Perspectives, 1(7), 180–186.
UNESCO. (2020). Inclusion and education: all means all. Global education monitoring report. Paris: UNESCO.
Wasserman, E., Zwebner, Y. (2017). Communication between Teachers and Parents using the WhatsApp Application. International Journal of Learning, Teaching and Educational Research, Vol.16, 12, 1-12.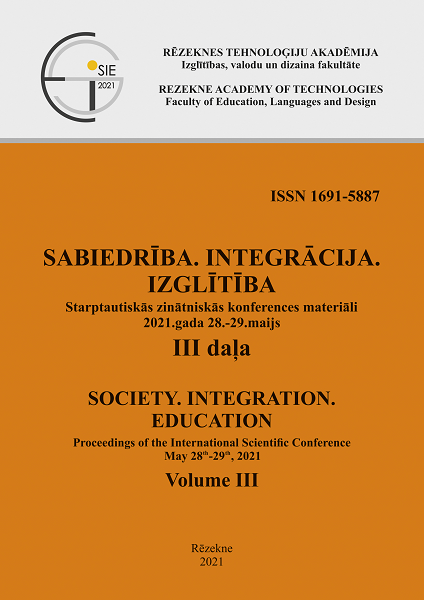 Downloads