RESEARCH OF ROBOT - HUMANOID CONTROL METHODS USING HUMAN BODY MOTION RECOGNITION TOOLS
Keywords:
identification of human body movements, robot – humanoid, robot's kinematic nodes, robotic system, students practical – applied teaching
Abstract
The aim of the research is to investigate and evaluate the repetition indices of the displacements of the robot's kinematic nodes, using the means of identification human body movements, using a real robotic system. The article presents an analysis of human body motion recognition tools, identifies typical application criteria that meet the requirements of robotic systems control, describes the developed physical research stand "Robot - humanoid": the robotic system is identified with the human body with two of nine-kinematic degrees of freedom hands and a two degree of freedom robotic mechanism replacing the head on which the environmental video surveillance equipment is mounted. The publication presents systematized experimental data and suggestions for the integration of research results into the process of students' practical - applied teaching in a contact or distance way.
References
Chaminade, T., & Cheng, G. (2009). Social cognitive neuroscience and humanoid robotics. Journal of Physiology-Paris, 103(3-5), 286-295.
Davies, E.R. (2017). Computer Vision. London: AcademicPress.
Langevin, G. (2017). Inmoov. Open source 3D printed life-size robot. Retrieved from http://inmoov.fr/build-yours/hand-and-forarm-assembly-3d-views/
Lingin, C & Xiaolin, L. (2018). Robust human action recognition based on depth motion maps and improved convolutional neural network. J. of Eletronic Imaging, 27(5).
Pocevičienė, R., Lukavičienė, V., & Augienė, D. (2010). Praktinės projektų valdymo metodo taikymo galimybės. Metodinė priemonė. Šiauliai: Všį Šiaulių universiteto leidykla.
Rokicki, J. (2010). Skeletavimo metodų apžvalga. Science - Future of Lithuania, 2(1), 19-22.
Stitilis, R. (2014). Kinect Controlled Computer Game. Šiauliai: Šiauliai University.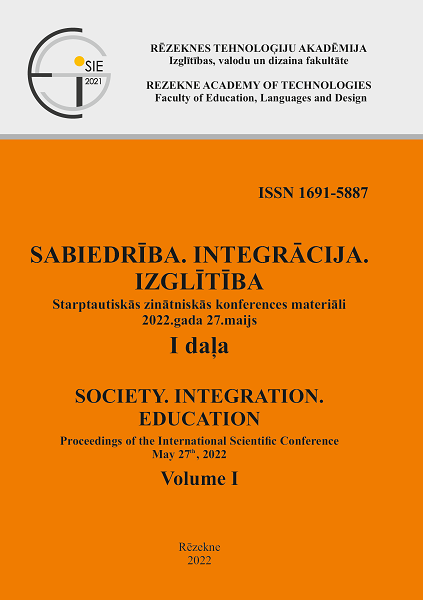 Downloads